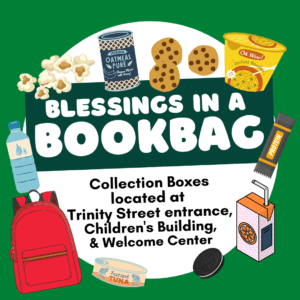 A mission program of First Youth Ministry, our Blessings in a Book Bag provides weekend meals to children in Troup County who might otherwise go hungry.
Each week our youth have been able to provide 42 students at Ethel W. Kight Elementary School with Blessings bookbags for weekend meals. We are running a Blessings campaign to provide more food, the church has Blessing donation boxes all across campus. In 2020, our youth provided 600 meals for Troup County students.
For more information on volunteer opportunities, please email our Director of Food Services and Hospitality, Rick Free or call 706.884.4635.