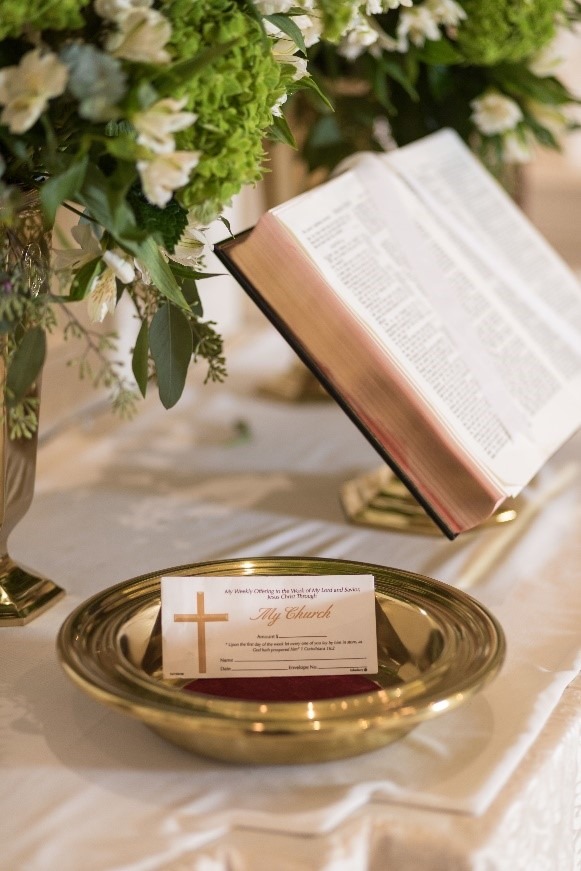 Stewardship is not a program. It is not about raising money, although giving money is one tangible result. It is not here today and gone tomorrow or next month. Stewardship is a journey, it is about life. In fact, stewardship is a way of life. It is about the mission of our church – in this church, from this church, and beyond this church. God has made each of us a steward and has given us resources, abilities,  and talents that are unique. We give them back to God in abundant generosity and thanksgiving for nothing less than the work of His Kingdom.
Our stewardship focuses on commitment – of time, talent, prayers, and financial resources. All of us are called upon to be stewards of our faith, to proclaim our faith in God, and to be a vital Christian presence in our local community.
How much should I volunteer?
Our prayer is that each member of the church family will find at least one volunteer ministry beyond Sunday morning.
How much am I expected to give?
This is, of course, the most difficult question to answer. The first and most important step is to pray for God's guidance. Proverbs 3:9 calls us to tithe (10%) of our "firstfruits" through proportional giving. This is simply giving a percentage of your income to the church. Choose your amount and then ask yourself: Is this in proportion to the importance of God in my life? Is it proportion to the importance of LaGrange First Methodist in my life? And how is it in proportion to the other ways I spend money?
Stop for a moment to consider your relationship with God and then prayerfully consider making a commitment to the church for 2023.
GIVE NOW BY CASH OR CHECK
Contributions can be made by cash or check through the following methods: the offering plate during worship services, in your Sunday School class, at the lockbox by the Vernon Street entrance to the Children's Building, the lockbox at the Trinity Street entrance to the Sanctuary, or by mail to:
The First United Methodist Church of LaGrange
401 Broad Street
LaGrange, Georgia 30240
ATTN:  Giving
Text LGFUMC to 73256 to give using your mobile phone. Participants can give via an electronic check, debit card or credit card.  (Standard text messaging rates will apply.)
GIVE NOW ONLINE VIA CREDIT CARD OR ACH
IN ADDITION TO TRADITIONAL METHODS, OUR CHURCH OFFERS THE CONVENIENCE OF ONLINE GIVING. MEMBERS AND GUESTS CAN GIVE SAFELY AND SECURELY USING OUR ONLINE GIVING LINK BELOW.
Our Online Giving module accepts donations from checking accounts, debit cards, and credit cards. 
Donations can be made as one-time gifts or can be scheduled as recurring donations with several giving options. Recurring donations can easily be scheduled for once a week, every two weeks, once a month, twice a month, or every three months.
IF YOU ARE 70 ½ OR OLDER, YOU MAY TRANSFER AN AMOUNT UP TO $100,000 TO A NONPROFIT SUCH AS LAGRANGE FIRST METHODIST.
Benefits:  You pay no income taxes on the gift.  If you are at least 72 years old and have not yet taken your required minimum distribution for the year, your gift can satisfy all or part of that requirement.  And you get to see the impact of your gift today!
GIVE NOW WITH PERSONAL PROPERTY OR SECURITIES
DONATE STOCK, SECURITIES, OR REAL ESTATE THAT YOU'VE OWNED FOR LONGER THAN ONE YEAR.  
Benefits:  Eliminate capital gains tax on property or securities that have increased in value.  You can qualify for an income tax charitable deduction on the gift when you itemize.
Will or Living Trust:  Work with your attorney to add a gift to the LaGrange First United Methodist Church Memorial Foundation.  
Benefits:  You do not have to part with your assets today.  Enjoy flexibility to change your gift as your circumstances change.
Beneficiary Designations:  Designate the LaGrange First United Methodist Memorial Foundation as beneficiary of a percentage of your retirement plan, savings or brokerage account, or life insurance policy.
Benefits:  You can pass retirement plan assets for the church's benefit tax-free, and you retain the ability to adjust your wishes at any time.
Donor Advised Funds:  You can establish a donor advised fund through the LaGrange First United Methodist Church Memorial Foundation. 
Benefits:  Simplify your giving and qualify for an income tax charitable deduction when you make a gift to your fund.
To learn more about Legacy Giving opportunities via the First United Methodist Church of LaGrange Memorial Foundation, contact giving@lagrangefumc.org.