Find your home in a small group this Spring.
Melissa McClone famously wrote, "Life takes you to unexpected places. Love brings you home."
Has there been anything we could say that could better describe our experience of the last few years? Who could have expected the things we seen? The things we've been through? The storms we've weathered? The places we have found ourselves?
We certainly didn't see them coming. However, in the midst of the uncertainties of life, love continues to bring us home. As we enter a new year and new season, we hope you will consider joining a Soul Connections small group.
Being part of Soul Connections is a way to connect with others, grow in the love of Christ, and find a spiritual home through small group discipleship.
Home is to be found where our hearts connect with God and others, and a Soul Connections group is the perfect place to find a home to weather the unexpected places life will take you.
August 29 through September 25, you can sign up for our new Soul Connections groups that will be offered at varying times and days of the week, meeting weekly September 26 through November 20.
Why are Soul Connection Groups important?
When something we need and count on is broken, we seek help to repair it. We quickly call the mechanic or our doctor to get it fixed. Yet, our spiritual lives aren't quite that easy to correct. None of us are capable of "fixing" ourselves alone. Soul Connections offer a safe place, at a set apart time, to build meaningful community, share the state of our souls, discern God at work in our everyday lives, and encourage one another to live in God's grace. These groups keep our eyes and our hearts focused on God in the ordinariness of our days and give us people to journey with through the ups and downs of life.
The Power of Two Simple Questions.
Soul Connection Groups are based around two primary questions: "How is it with your soul?" and "How have you experienced God this week?" These questions stem from John Wesley's class meetings, the engines for growth in faith and discipleship of the early Methodist movement. Knowing that you will be asked these questions every week, will lead you to pay more attention to your daily spiritual formation and help you to be "real" with others in a world that shies away from vulnerability at all costs. You will begin to see the subtle and obvious ways God is moving in your life, as well as the lives of others in your group. Consistently answering these questions in front of other believers, who are all on the same journey as you, is a powerful practice the Holy Spirit will use to draw you closer to God.
What is the format of a Soul Connection Group?
Groups of eight to 12 people meet for an hour to an hour and fifteen minutes once a week. Confidentiality is expected. We open and close with prayer and a short time of discussion on the previous week's Scripture passage from worship. But again, the key component of Soul Connection Groups are discussions and answers to the two questions "How is it with your soul" and "How have you experienced God this week?"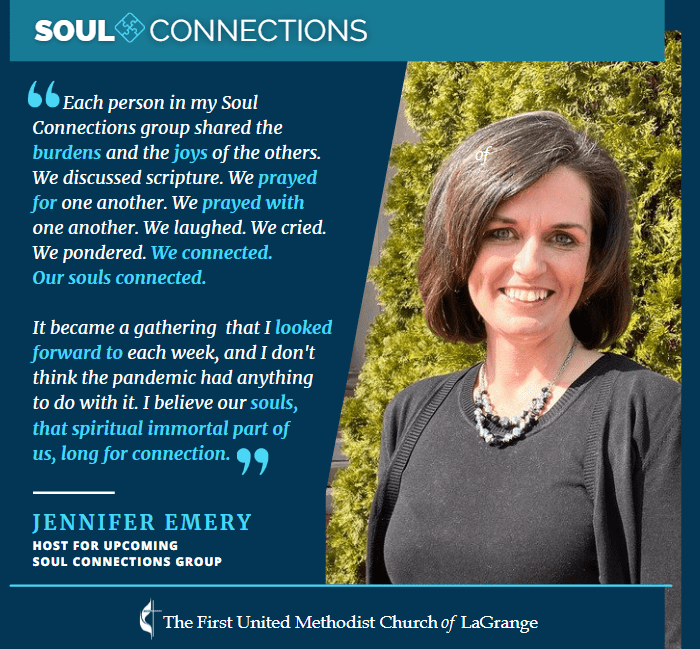 "Just as our bodies have many parts and each part has a special function, so it is with Christ's body. We are many parts of one body, and we all belong to each other." — Romans 12:4-5
Did you enjoy playing with Legos as a child? You may still enjoy them, even as an adult. The possibilities of creation are limited only by the imagination of the builder. When one considers a single Lego block, it does not seem that important all by itself. However, just try to finish a Lego masterpiece without the one peculiarly shaped piece that you cannot find. Soon you will discover the importance of every block. The body of Christ, which is known as the church, is just like Legos. God did not intend for us to do life alone. As the passage above states, "We all belong to each other."
God created His church, the body of Christ, to connect with one another. He also designed us to be most effective when we are in life-giving relationships with other believers. The church is not the church without people. When we connect with others, endless possibilities of what we can do for Christ arise because we are created by God, the great builder, and His imagination has no limits.
Author Joey Bonifacio in The LEGO Principle: The Power of Connecting to God and One Another, states "The Bible considers our relationship more important than our accomplishment. God will get His work done! He does not demand that we accomplish great things; He demands that we strive for excellence in our relationships."
At LaGrange First Methodist, we truly believe that "We're Better Together!" and desire for every single person to live out this truth in the context of transformative community. We all want to be known and loved, yet in today's world, true friendships are hard to find. Soul Connection Groups are a place to experience real connections with God and others as you grow in grace together. These groups are about moving closer to God by living out our faith, not just learning about our faith. They prioritize transformation over information and relationships over rigidity.
Soul Connection Groups help us love like Jesus.  After all, He raised the bar of love to extraordinary heights. Love your enemies? Walk the extra mile? Turn the other cheek? To love like Jesus, we need to think and feel. We need reason and emotion. Both head and heart, working together. It is the only way to bring perfect love into our imperfect lives.
Here's what I know: when you open your heart, love changes your mind! Think about that. Your mind can do an about-face and be transformed when it receives a divine impulse from your heart. You experience a revolution in your thinking when you allow your heart to enter the conversation.
I hope you will open your heart and your mind to embrace the opportunity to participate in a Soul Connections group this fall. Groups will meet for six weeks.
Your friend in sharing life's adventure with Christ,
Dr. John Beyers